Skip to Content
Residential or Commercial Automated Gates
Whether it is the elegance of wrought iron, the timeless beauty of custom-crafted wood or even aluminum, we can create an automated or standard entryway that will make anyone take notice.
Our craftsmen can fabricate any type of gate desired. We have a design for almost any budget starting from custom-built stone or brick columns to complete automated systems. Precision Fence & Automated Gates Fences uses all top names in the industry such as BFT. FMC. DoorKing and Viking operators. Telephone entry systems and CCTV are also available.
We also offer services to existing gates and automated systems as well.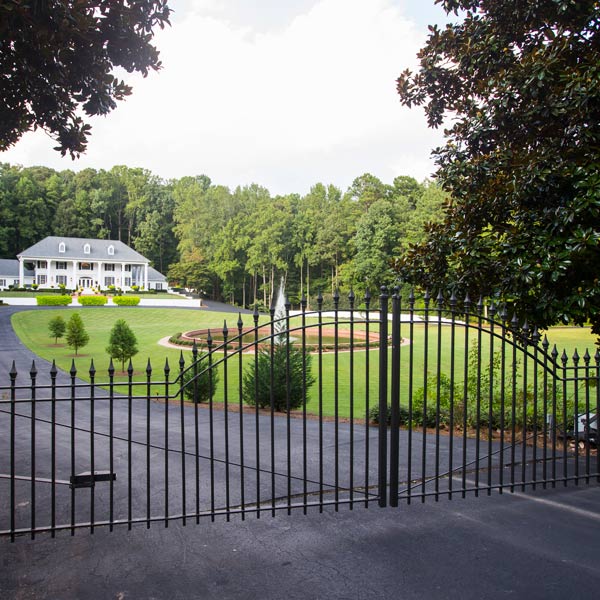 Gate Kit Installations
As automated gates become more common-place throughout the US, automated gate kits have become available for all kinds of gates. Precision Fence & Automated Gates can install them for residential use. With security and access control playing a major role within our lives. Entrances to our homes become increasingly more important whether it be due to security, safety, ease of access, controlled access, or to enhance the appearance of a home.
Operation and control of automated gates can be wide-ranging with each system being able to open using a variety of controls: a radio transmitter. Digital keypad, key operation, timed operation, photocell/loop detector, audio entry system, and video entry system.
The kits that are provided all came with a guarantee sell handheld transmitters and audio and video entry systems online. All gate kits come complete with exceptionally comprehensive and straight forward fitting instructions. Anyone who is competent at DIY should be able to follow them with ease. Or our expert staff will install it for you. Please note some welding may be required on some gate kits.
Your Automated Gate Specialists in Westchester and Putnam County
We are Specialists in the design, installation, and maintenance of automated gate systems, both domestic and commercial.
Each automated gate system is Individually tailored to your unique requirements, you can choose either an 'off the peg'· design or have an automated gate designed to fit aesthetically into your grounds & neighborhood.
The convenience of automated gates come into their own on wet days or late at night especially when you have a car full of children and need to open the automatic gates as safely and quickly as possible. You can then close the automatic gates securely behind you from the safety and warmth of your car.