Skip to Content
Residential or Commercial Automated Gates
Whether you are looking for sturdy and reliable aluminum, the timeless beauty of custom-crafted wood, or the elegance of wrought iron, we can create an automated or standard entryway that will bring your vision to life.
Our craftsmen can fabricate any type of gate desired, and will review options with you to accommodate your budget.  Precision Fence & Automated Gates uses the top names in the industry for automation systems such as BFT & FAAC operators. Telephone entry systems and CCTV are also available.
We also offer services to existing gates and automated systems as well for maintenance, repair or replacement.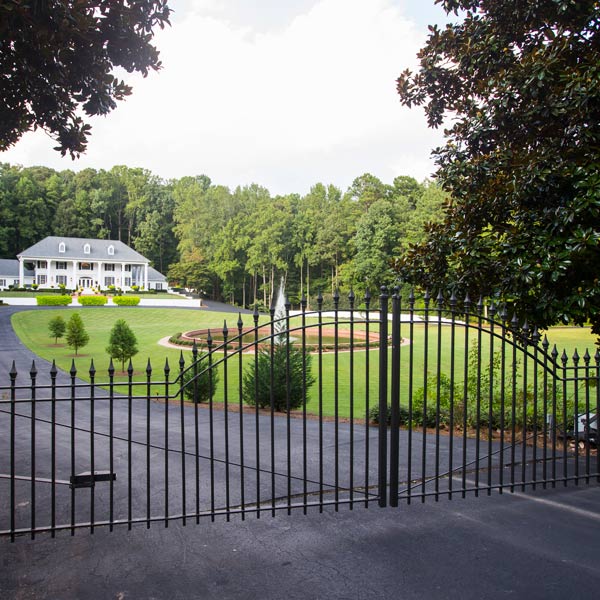 Gate Installations
With security and access control playing a major role within our lives, automated gates have become much more common throughout the US. The entrances to our homes have become increasingly more important, whether it be due to security, safety, ease of access, controlled access, or to enhance the appearance of a home.
Operation and control of automated gates can be wide-ranging with each system being able to open using a variety of controls/transmitters such as, digital keypad, key fob operation, timed operation, photocell/loop detector, audio entry system, video entry system, and app run entry.
Not only does Precision Fence and Automated gates install high quality entry gates gate and automation for them, but we also offer custom-built stone or brick column options to complete your entire entryway in one smooth process.
Your Automated Gate Specialists
We specialize in the design, installation, and maintenance of automated gate systems, both domestic and commercial.
Each automated gate system is individually tailored to your unique requirements, and you can choose from standard designs or have an automated gate custom designed to fit aesthetically into your grounds and neighborhood.