Skip to Content
Aluminum offers the beauty and protection of traditional wrought iron, without the maintenance.
Aluminum products are a popular choice for homes and businesses alike due to its high quality and affordable price. The talented team at Precision Fence & Automated Gates is versed in creating and installing outstanding aluminum fences, railings and automatic driveway gates, and highly recommends these products to home and business owners. Its evident that aluminum offers a sleek, clean look to any property, but for those looking for a little something extra, you may be surprised to hear that you have more than just one plane option with aluminum products. This material is not only offered in black but also comes in bronze and white, and can even be customized with add on picket scrollwork or decretive post caps. Our fencing expertise and custom craftsmanship will ensure you get the quality you desire and the protection your property needs.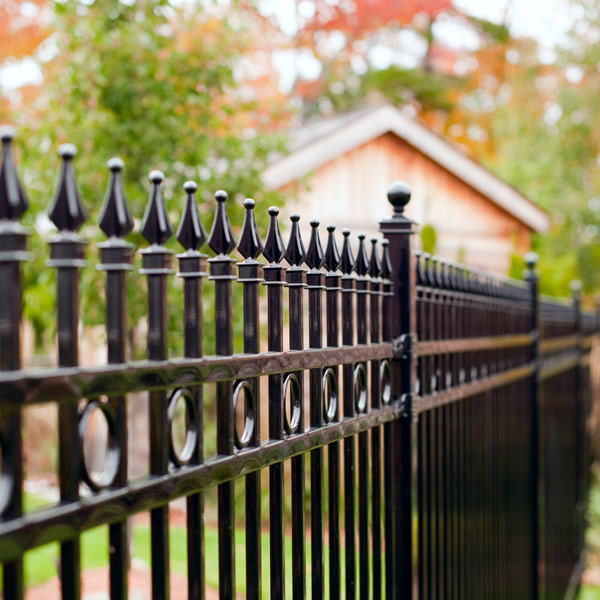 Advantages of an Aluminum Fence
Offering an alluring appearance and high structural integrity, aluminum products are a valuable addition to your property. Precision Fence & Automated Gates has ample experience creating and installing aluminum fences and railings, and recommends this material option for many reasons. Aluminum products achieve high levels of safety, aesthetics, and other benefits to your residence or business, such as a maintenance free, and less expensive option when compared to wrought iron. Aluminum pool fences are also the most popular option for pool enclosure safety. An aluminum pool fence creates a protected space with code compliant entry ways that allow ease of access for adults as well as a vitally important safety barrier for children.
Still on the fence about aluminum? Take a look at these additional benefits of  aluminum below.
Increases Your Property Value
The beauty and protection from a high-quality aluminum installation is an investment that reflects on the value of your property. With residential upgrades like a new fence, railing, or gates, your home gains aesthetic appeal and quality, allowing the value of your home to increase.
Keeps Your Children and Pets Safe
Aluminum fences are an attractive addition for your yard, and they act as a secure safety feature to keep young children and pets from wandering off your property. That added safety is a relief for parents of children and four-legged family members.
Keeps Out Would-Be Thieves
As you admire the safety an aluminum fence offers to contain children and pets, consider the protection from burglars and other would-be trespassers. A fence effectively deters thieves and blocks them from entering your property, so your home and possessions stay safe.
Increases Your Perceived Living Space
When you look at the livable space of your house, the property surrounding it might not be an apparent addition. With beautiful aluminum fencing, you see safe and usable space for your family to play and relax every time you look out your windows.
Get a Beautiful New Fence on Your Property
The fencing specialists at Precision Fence & Automated Gates look forward to working with you to create an attractive aluminum addition for your home or business. We will help you find the color, style, and height that works for you. Give us a call today to speak with a member of our team.