Skip to Content
Vinyl fences have high stability and can be obtained in a variety of styles and colors, for personalized fencing designs
Vinyl products offer durability with a customizable look for homes and businesses, and can also be installed in wood grain designs, as well as a various selection of colors and textures for a unique look. Precision Fence & Automated Gates installs, repairs, and maintains polyvinyl chloride (PVC/Vinyl) fences to every client's specifications, so that they get the look they want, with outstanding material and construction quality. For a long time, we've helped people attain the security and privacy they desire for their properties using vinyl fence. The manufacturer's written warranty backs all of our vinyl products, and we custom-design them for each home or business owner.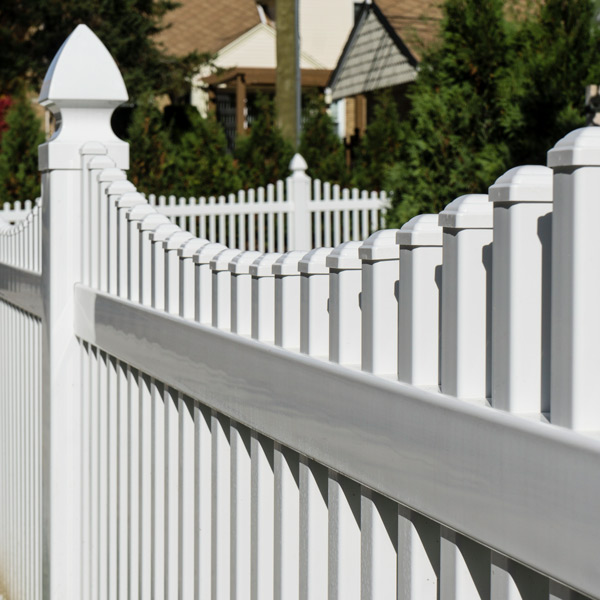 Types of Vinyl Products we Offer:
Privacy fence
Picket fence
Post and rail fence
Lattice fence
Gates
Railings
Lattice toppers
Pergolas
Deluxe arbors
Decorative post caps
Advantages of Vinyl Fence on Your Property
Stronger Than Other Fencing Options
You don't have to worry about your fence being fragile when it's made with vinyl. This material is significantly stronger than many other fencing materials. Compared to wood, vinyl fencing is fives times stronger, which makes it an excellent choice for long-lasting durability since it will never rot or decay from long term exposure to the elements.
Flexible Material
In addition to its strength, vinyl fence is also an extremely flexible material. In the cases of high winds and impact from objects that fall or lean on it, vinyl fence will flex with the weight or impact, which makes it less likely to crack or break. This flexible quality enhances your fence's ability to endure long-term use on your property.
Attractive Appearance on Your Property
The look of Vinyl fencing is very appealing and customizable to fit your property's aesthetics. We have various styles and colors available from which you can choose, and our expert installation and maintenance ensure flawless construction.
Affordable Choice for Installation
While vinyl offers so many appealing features, such as strength, durability, beauty, and convenience, you don't have to suffer a massive price tag. Vinyl fences are a very affordable option for your home or business, especially when compared to other materials like wrought iron or wood choices.
Easy to Clean and Maintain
A favorable attribute of a vinyl material, is the simplicity of maintaining it. A fence made with vinyl is easy to clean when mud and dust build up, and it requires very little attention. Repairs are quick and simple as well, as we are easily able to replace any damaged boards with new ones.
Get a High-Quality Fence from Precision Fence & Automated Gates
When you want a combination of aesthetic appeal, durability, and convenience, Precision Fence & Automated Gates has customizable vinyl fences for your home or business. Give us a call today to discuss your desired color and style with a member of our talented team.